Current status:
I'm working as a Web Developer for a local credit union, but spend all my vacation time photographing tennis for TennisConnected. My photos have been featured on many websites, purchased by player coaches and appeared in print for TennisView Magazine and the cover of NY Tennis Magazine.
Some basic facts:
I graduated with a B.A. in German (please e-mail your theories as to why I chose that subject) from the University of Texas at Austin.
Unlike a lot of Austinites, I grew up here. Like most cities, its got a few problems, but over all it's a great place to live.
Thanks to my obsession with the X-Files (before it started to suck) and my desire to make a cool fan web page, I started learning web development. So, it's all Mulder's fault that this page is here (even if it's now X-Files free).
I have a thing for pink flamingos. I also dislike pink. Go figure.
I love to take photos; you can see more of my pictures here.
I adore some people who watch The Amazing Race even if I don't watch it that much any more.
I also love tennis but especially enjoy watching one particular player.
Silly stuff:
It's said that your basic personality traits are set by the age of 4 or 6. If that is true, below are some photos that prove some basic truths about myself.
My battle with wedgies has been life long.
I've been known to accost total strangers.
I've never been very lady like.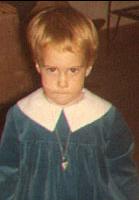 I've never been above pouting to try and get what I want.