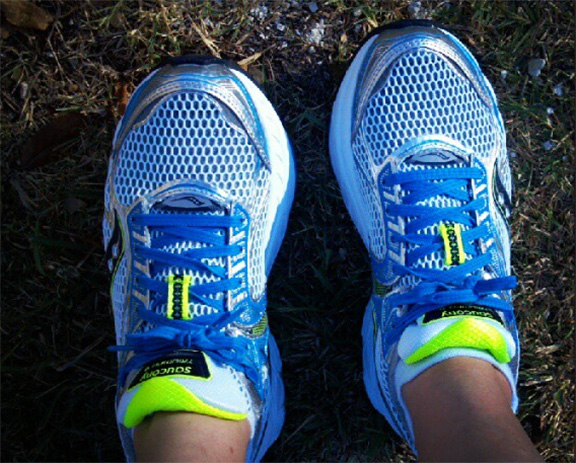 12/15: AustinFit training walk
15 December, 2012
I almost didn't walk today. I hadn't had a decent walk since last Thursday. First, I went out of town for the weekend – getting back late Monday night. Tuesday, I came down with a horrid cold and spend most of Wednesday and Thursday laying in bed coughing and sneezing. I woke up Friday, did a Walk-at-Home DVD (my head still felt too weird to walk alone in the great outdoors) and ventured in to work. I wanted to walk today, but should I? Would I make my cold worse? Should I conserve my energy?
The route today was just 7 miles, so I decided to go. If it had been a 10+M day, I can't say the decision would have been the same. My goal was just get the walk in without worrying about time. Turns out that's a good thing because I found out that when walking while not feeling well, your heart really gets going. It was beating, on average, 20 more beats per minute than usual. And doing this while I wasn't going as fast as usual. I was a little light-headed a few times, but overall, I'm glad I went. I always worry about trips/illnesses undoing months of habit building. I wasn't going to let that happen this time.
Route
Info (as recorded by Endomondo)
Distance 7.63 mi
Duration 2h:01m:46s
Avg. Speed 3.8 mph
Max. Speed 10.6 mph
Min. Altitude 395 ft
Max. Altitude 671 ft
Total Ascent 1188 ft
Total Descent 1226 ft
Since I figured I'd be going much slower than everyone else, I brought my headphones and listened to some music. (Wearing headphones is usually discouraged for group walks.) So, here's the playlist:
John Lennon: Instant Karma! (We All Shine On)
Buckwheat Zydeco: Ninth Place
Midnight Oil: Stars Of Warburton
Crowded House: Better Be Home Soon
Tracy Chapman: A Hundred Years
Violent Femmes: Promise
The Reivers: Dragon Flies
Peter Gabriel: The Family And The Fishing Net
Wilson Pickett: In The Midnight Hour
The Weepies: Not A Lullaby
Silversun Pickups: Broken Bottles
The Waterboys: A Boy In Black Leather
4 Non Blondes: Drifting
The Pogues: Gridlock
Patti Smith: Seneca
The Monkees: Pleasant Valley Sunday
The Turtles: So Happy Together
Creedence Clearwater Revival: Hey Tonight
Icicle Works: Reaping The Rich Harvest
The Weepies: How Do You Get High?
Talking Heads: (Nothing But) Flowers
The Beatles: Sun King
Comando Tiburon Ft. Mach And Daddy: Pasado Pisado
Joe Strummer & the Mescaleros: Mondo Bongo
R.E.M.: Zither
The Decemberists: When the War Came
Janis Joplin: Me And Bobby McGee
Concrete Blonde: Joey
Matchbox Twenty: Shame
I admit I was feeling pretty tired and ready to quit when "Pasado Pisado" came on. Not the best song ever, but one that always cheers me up because it reminds of watching the Spanish Davis Cup team's drunken, table-dancing celebration after winning the Davis Cup. The best b-day I've ever had!